Why Own Dividend Stocks?
Dividends Are a Critical Component of Total Returns
The chart below breaks down the total return of the S&P 500 from 31-Dec-92 to 31-Dec-22 into two components. Of the aggregate total return of +1,481%, +700% (or 47%) came from dividends & dividend reinvestment with the remaining +781% (or 53%) attributable to price appreciation. As a result, it follows that patient investors significantly benefit from the power of compounding by investing in companies that pay and grow their dividends over time.

The same conclusion holds true when looking at annualized total returns across global markets.
We cannot underestimate the importance of owning equities which pay regular and growing dividends. The following chart shows that dividend growers have significantly outperformed the broader market over the last 30 years.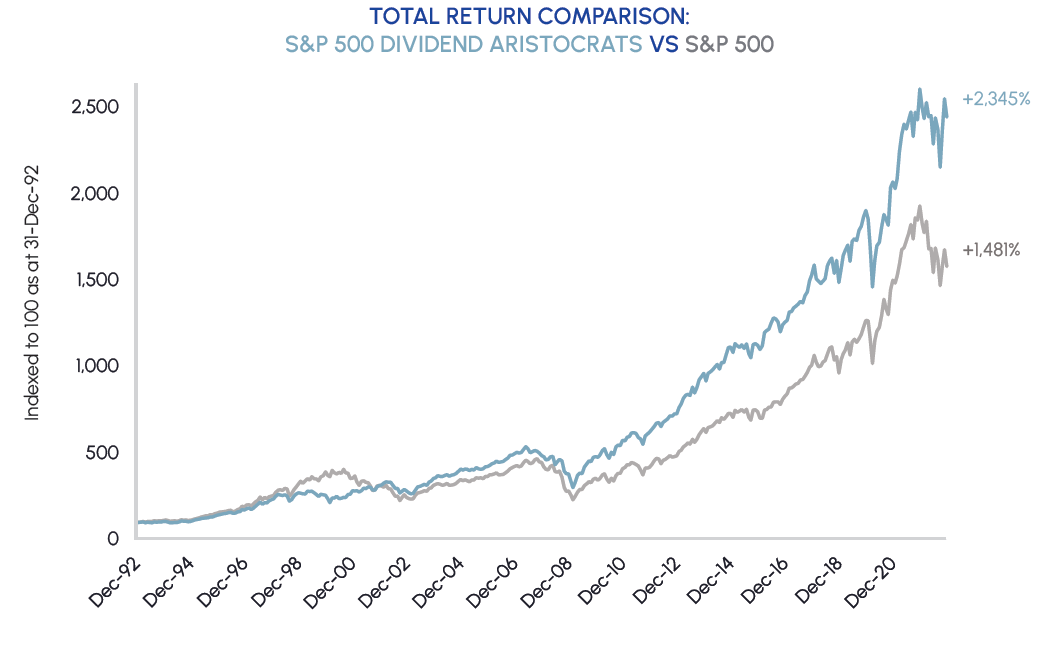 A major reason behind this outperformance is that dividend growers are committed to capital discipline. Companies which pay and grow dividends over time need to be profitable and generate excess amounts of cash flow. In addition, management teams that are committed to paying and growing dividends are highly focused on selecting capital expenditure projects which will create value for shareholders (e.g. generate returns in excess of the cost of capital) while sustainably growing cash flows in order to support dividend growth.
Owning dividend-paying companies can serve to dampen investment risk since these companies are often mature businesses with more predictable earnings. The stability in earnings is reflected in a sustainable dividend stream which can serve to offset the volatility in a company's stock price. In addition, historical research proves that dividend growers & initiators exhibit significantly less volatility than companies that do not pay dividends and especially so for those that cut or eliminate dividends.
Do
Not
Chase
Yield
Value traps are investments that appear undervalued but are actually in financial distress or, for a variety of reasons, may never trade at their expected value. Many of these companies have high dividend yields that are eventually proven to be unsustainable. Value traps are dangerous for investors because their stock prices may decline further, which can often provide management with a reason or support to cut or eliminate dividends.
In the graph below, we analyze the S&P 500 for the 30-years ending 31-Dec-22 broken down into ten deciles based on dividend yield. Specifically, D1 (the first decile) represents those constituents with the highest dividend yields while D10 (the tenth decile) includes those with the lowest dividend yields. The bottom line is that the stocks with the highest yields reflect a below-index return (see the S&P 500's stats on the left-hand side) with much higher risk. Further, D1 also has the 3rd worst "reward to risk" ratio. Interestingly, the best reward to risk is generated by D3 and D4 (highlighted in green). In other words, investors must exercise real diligence and scrutiny to identify companies which pay high dividends which are supported superior fundamentals.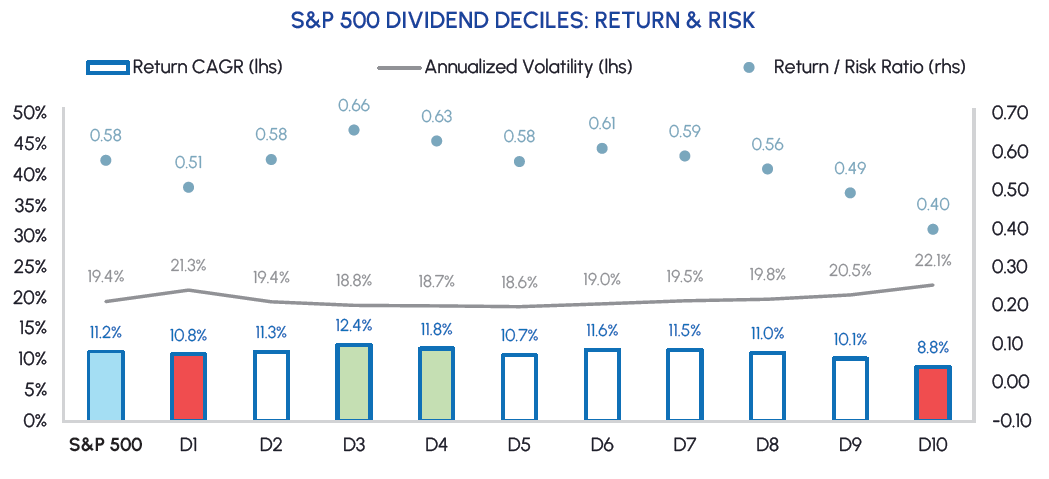 We can draw similar conclusions by examining the drawdown stats from the same 30-year study. Again, purchasing the stocks with the highest yields, D1, would have resulted in a -72.3% drawdown, the worst of all the deciles and more than 13% below the S&P 500's over the period. The lesson here is plain and simple: Investors should not blindly chase yield.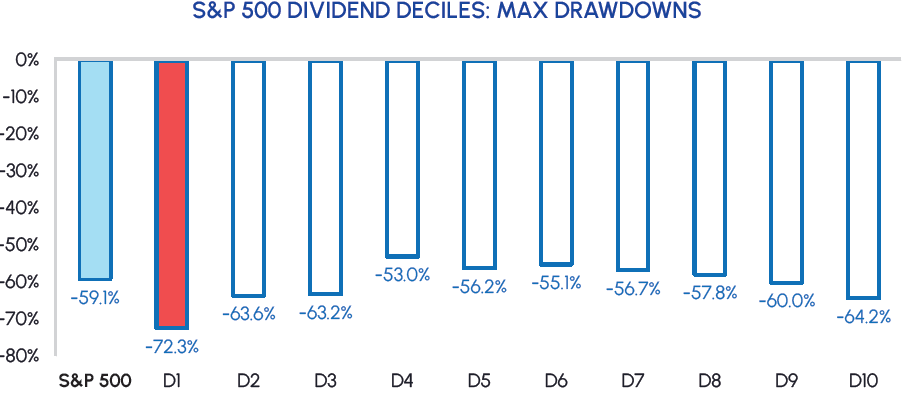 Dividends
Done
Differently
At Middlefield, we are focused on expertly selecting companies which meet our investment criteria. In light of our focus on businesses which generate consistent and growing levels of cash flow and dividends, we gravitate to larger capitalization, higher quality issuers led by proven by management teams. These are typically global businesses which earn uninterrupted levels of income for investors. This process helps us to avoid chasing yield and falling into value traps.
Our multi-disciplinary investment process for identifying superior dividend paying stocks are as follows:
Middlefield
Diversified
Dividend-Focused
Strategies
Solutions Overview
Income
All Middlefield dividend funds provide investors with significant levels of monthly income and attractive capital appreciation potential.
Holdings
Middlefield's dividend strategies are actively managed portfolios holding approximately 25 to 40 names with an emphasis on large-cap companies with leading market positions that have the ability to pay and grow their dividends over time.
Investment
Processes
Guiding
Principles
Superior security selection is the best way to consistently achieve alpha
Investment team collaboration, talent and process discipline is necessary for long-term success
Risk controls govern portfolio construction and ongoing monitoring
Investment Principles
Focus on companies with strong business models and sustainable advantages over competitors
Leading businesses take market share and are exposed to end-market growth
Execution based on reasonable valuation in the context of the long-term outlook (GARP tilt)
Great management teams are governed appropriately, operate in a sustainable/socially responsible matter and make ethical strategic decisions through a long-term lens
Portfolio Risk Oversight
Construction Discipline

Ongoing Active Management

Optimize allocations for ideal portfolio-level stats
Scenario analysis and stress testing
Investment policy to control security concentration and liquidity

Investment committee and CIO/CCO oversight
Real-time monitoring of portfolio risk and return
Continuous attribution analysis